Chora Nova, directed by Paul Flight, is an auditioned chorus based in Berkeley, California, that draws experienced singers from around the Bay Area. The group presents three programs each year, with performances in November, March, and May.
We welcome potential new members to audition for the chorus at the beginning of weekly rehearsals for each concert set (in September, January, and late March).
---
2021 Season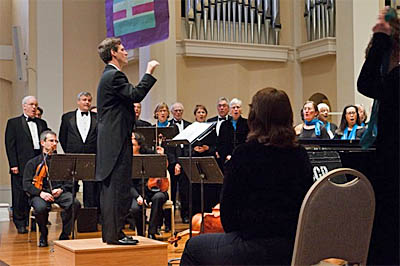 This season's programming remains a work in progress, due to the ongoing dislocation of all our lives brought on by COVID 19. As soon as possible, Chora Nova will return to live performances.
Meanwhile, however, we are pleased to offer you a rare opportunity for participation in virtual rehearsal and concert performance via Zoom.
Winter Quarter
Marvelous Miniatures 2 – the Sequel
Rehearsals Tuesdays at 7:15, January 26 through March 19
Virtual concert 11 a.m. Saturday, March 20
Registration closed.
Raise your voice with Chora Nova for Marvelous Miniatures 2 – the Sequel, which echoes the buoyant concert we came so close to performing last March. The program of songs and other short works ranges through five centuries and five languages, including pieces by
Palestrina: Sicut Cervus / Sitivit anima mea
Rheinberger: Abendlied
Brahms: Geistliches Lied
Fauré: Pavane
Holst: Mae 'nghariadd i'n Fenws (My Sweetheart's like Venus)
Vaughan Williams: Ca' the Yowes
Bairstow: The Oak and the Ash
Stanford: Quick! We Have But a Second
Walker: White Horses (You may volunteer to participate in a video of this lovely song.)
As an extra treat, Artistic Director Paul Flight will invite professional soloists to perform for us, making our March concert into a truly sparkling songfest.