Chora Nova, directed by Paul Flight, is an auditioned chorus based in Berkeley, California, that draws experienced singers from around the Bay Area. The group presents three programs each year, with performances in November, March, and May.
We welcome potential new members to audition for the chorus at the beginning of weekly rehearsals for each concert set (in September, January, and late March).
---
2020-2021 Season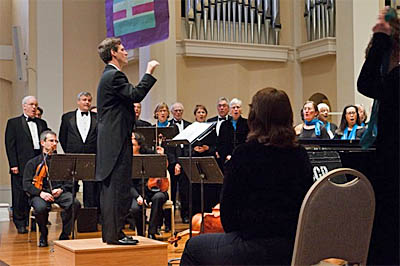 This season's programming remains a work in progress, due to the ongoing dislocation of all our lives brought on by COVID 19. As soon as possible, Chora Nova will return to live performances.
Meanwhile, however, we are pleased to offer you a rare opportunity for participation in virtual rehearsal and concert performance via Zoom.
We will rehearse with music director Paul Flight and accompanist Paul Caccamo from our homes (muted so that that the lapse between audiovisual generation and reception will not be a problem).
At our performances, we will sing the choruses, this time with a recording.
Soloists will join us live from their own homes to sing the arias and duets.

---
Winter and Spring Concerts
Watch this space for Winter Quarter opportunities to enjoy Chora Nova's music.
Stay well!